If you wish to integrate security relevant services into your telecommunication network several European standards of the CEN (European Committee for Standardization) provide the relevant standards.For railway technology these are:
EN50126 RAMS (Reliability, Availability, Maintainability, Safety) and life cycle with railways

EN50129 Safety of systems in signalling equipment

EN50128 Software

EN50159-1 Safety-relevant communication in a closed transmission network

EN50159-2 Safety-relevant communication in an open transmission network
Both last-mentioned standards are applicable for "secure communication", where as so far only approvals for EN 50159-1 were granted from national approval authorities.
This means that your network has to guarantee minimum impact when failure occurs in interface line cards. For this purpose data transmission on a SDH network is mandatory, as switched or routed Ethernet-based networks are prohibited.
UMUX has been fulfilling the requirements of these standards for years and is employed in this special field successfully by international railway companies. With comprehensive protective functions and its robust design it fulfils all possible requirements. The extended operating temperature range and its "outdoor capability" allow for seamless operation even at difficult environmental conditions as e.g. operation in outdoor cabinets.
At the same time UMUX provides Ethernet over SDH (EoS), optical and electrical SDH interfaces as e.g. STM-4 with 622 Mbps. So you can continue to use your existing data transmission infrastructure and offer simultaneously with EoS new Ethernet services that meet the "absence of reaction" requirement without the installation of new and thus expensive transmission routes in your telecommunication network.
Distribution of Services and Aggregation in Railway Stations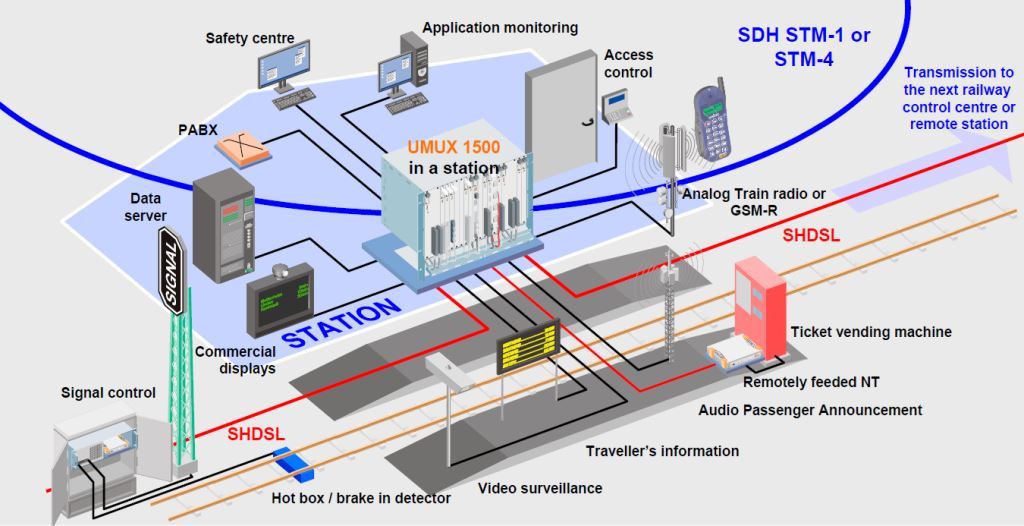 As an operator of a telecommunication network you have to provide an increasing number of different electronic services in and at your railway stations. Where in former times only the clock for minute clocks and public-address announcements had to be transmitted your telecommunication network now has to supply data for advertising displays, surveillance cameras, dynamic passenger information systems, ticket machines, WLANs for customers and others.As railway station premises are very large in most cases not all services can be connected directly (10BaseT has e.g. a max. line length of 100 m). To expand the range of interfaces DSL routes have to be employed (LT in the central, NT at the remote end). In ideal cases NTs can be remotely supplied. Remote supply provides fast realisation of new access points on one side (no local power supply required), on the other side it guarantees an operation that can be logged (no dependency from decentral power sources).Besides the provision of this large number of information services, also mission-critical data to guarantee for safe and seamless operation of trains have to be transmitted. In order to optimise your telecommunication network, the information services data has to be transmitted together with the mission-critical data via one consistent telecommunication network. Data for e.g. signal control, axle counting, hot box and blocked brake detection or track surveillance have to be transmitted via a communication network with highest system availability. The standard EN 50159-1 has to be kept in mind. For seamless operation manifold protective mechanisms on the level of the network and network elements need to guarantee for maximum availability of the telecommunication network.
XMC20

XMC20 is a full hybrid access and transport platform for mission-critical networks that combines Ethernet SDH and PDH technology in one single subrack. It's designed to handle the specific requirements of dedicated networks.

SDH transmission with SDH STM-1, STM-4, STM-16

Multiplex Section Protection (MSP)

Subnetwork Connection Protection (SNCP)

1+1 Equipment Protection (EQP)

Synchronous Equipment Timing Source (SETS) protection

Ethernet-over-SDH

UMUX

UMUX is a Multi-Service Access system that can provide a range of applications for dedicated network operators. Besides the Ethernet/IP interfaces all legacy interfaces are supported. Manifold network interfaces are integrated as well.

Ethernet/IP interfaces (10/100BaseT, Gigabit Ethernet)

Legacy interfaces (V/X, POTS, ISDN, G.703, RS-232, RS-485, I/O contacts)

Network interfaces (SDH up to STM-4 optical and electrical, SHDSL, G.703)

Add-Drop multiplexer

Extensive protection functions

Multiplex Section Protection (MSP)

Sub Network Connection Protection (SNCP)

Linear Trail Protection (LTP)

1+1 Equipment Protection (EQP)

1+1 Path Protection

Synchronous Equipment Timing Source (SETS)

EoS with Link Capacity Adjustment Scheme (LCAS)

Spanning Tree Protocol (STP)

Rapid Spanning Tree Protocol (RSTP)

XMP1

The XMP1 is a modular and flexible multi-service access system, integrated to a high level that offers a wide range of voice, ISDN, data and LAN services. The SDH and 64-kbps, cross-connect function is an integral part of the system. As a result, a variety of 64-kbps-based PDH network applications can be supported and seamless integration into STM-1/STM-4 ring, star and mesh networks is possible.

Modular system for all network topologies

SDH transmission with STM-1 and STM4

Numerous voice and data interfaces