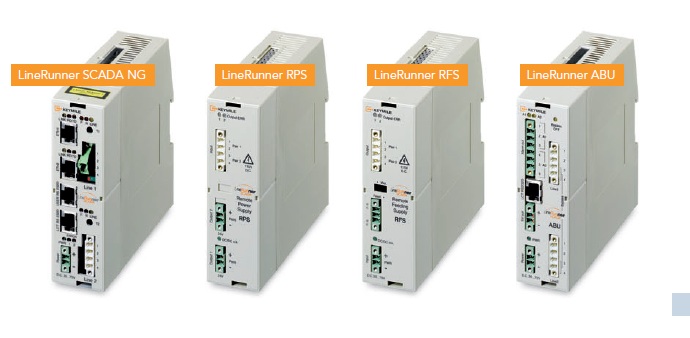 LineRunner SCADA NG je multimedijalni sistem prenosa za upravljačke i kontrolne signale, SCADA  uređaje, video nadzor, sisteme za obaveštavanje putnika, sisteme za svetlosnu signalizaciju, sisteme za upravljanje saobraćaja. Odlikuje ih pouzdan, fleksibilan i širokopojasni prenos podataka u mrežama gde se zahteva visoka raspoloživost.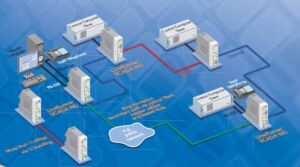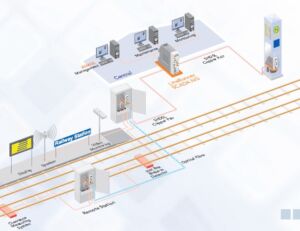 Karakteristike SCADA NG:
Multimedijalni sistem prenosa: bakarne parice, optička vlakna, PDH/SDH mreže (E1 signal)
Izmenjivi linijski inrerfejsi
Dva korisnička Ethernet interfejsa za dve odvojene ethernet mreže
Serijski RS-232 interfejs za tradicionalne asinhrone signale
Svaki uređaj je regenerator i medija konvertor u isto vreme
Mogućnost udaljenog napajanja pomoću LineRunner SCADA RFS/RPS
Temperaturni radni opseg: -25 °C do +70 °C
Mali gabariti, pogodan na mestima gde je limitiran prostor (postavlja se na DIN šinu)
Nadzor mreže pomoću softvera LineRunner ASMOS
Fleksibilna topologija  SCADA mreža:

Point-to-point
Bus
Ring
Kombinovana
Osim ovog proizvoda u programu KEYMILE GmbH nalaze se i drugi prenosni sistemi namenjeni SCADA aplikacijama – za više informacija možete nam se obratiti na 011 785 4545 ili office@telemet.rs
Broadband Industrial Ethernet Transmission System LineRunner SCADA NG
Extremely robust system for broadband transmission of Ethernet data
LineRunner SCADA NG is supplied in tough plastic housing. It can fit on top hat rails – but also be used as a desktop unit.
Using the LineRunner SCADA MF3 assembly kit, you can accommodate up to four SCADA NGs in a single subrack (3 U, 84 TE) in your main station.
For ease of access by operating personnel, LineRunner SCADA NG's interfaces and display elements are located at the front. Due to the low supply voltage and power consumption, the SCADA system can also be operated on solar plants. In addition to the user interface, the LineRunner SCADA NG also has two line interfaces. It also operates as a regenerator and media converter.
LineRunner SCADA NG highlights
Base subrack for an up to 2 network interfaces
Compact housing 135 x 43 x 150 mm
All connections at the front
LEDs for an optical display of the operating status
Power supply 20 … 75 V DC
Power consumption <6 W
Shock-resistant compliant with EN 300019-2-3
Management interfaces RS-232 and Ethernet
Integrated media converter
Separate data channels with priority for Ethernet, serial, and management data
Subscriber interfaces
| Name | Description |   |
| --- | --- | --- |
| Ethernet 1 | 10BaseT interface for user data, management data according to configuration |   |
| Ethernet 2 | 10/100BaseT interface for user data |   |
| Subscriber interface RS-232D | RS-232D interface for user data |   |
| Management interface RS-232D | RS-232 interface to connect a computer for local management (ASMOS) |   |
Network interfaces
SHDSL Line Interface

 

Standard

According to ITU-T 991.2

Line-Code

16 TC-PAM or 32 TC-PAM

Data rates 16 TC-PAM




(with LI bundling x 2)

256 kbps, 512 kbps, 768 kbps, 1024 kbps, 1280 kbps, 1536 kbps, 1792 kbps, 2048 kbps, 2304 kbps, 2560 kbps, 2816 kbps

Data rates 32 TC-PAM




(with LI bundling x 2)

3072 kbps, 3328 kbps, 3584 kbps, 3840 kbps, 4096 kbps, 4608 kbps, 5120 kbps, 5696 kbps

Additional feature

Rate adaptiv via one copper pair
Optical Line Interfaces

 

OF1S

Data rate 2 Mbp




Laser wavelength 1.310 nm

OF1L-6

Data rate 6 Mbps




Laser wavelength 1.310/1.550 nm

OF-SFP

Data rate 12.5 Mbps




Laser wavelength 1.310/1.550 nm

Additional feature

Laser safety class 1
PDH/SDH Line Interface

 

Interface

G.703/G.704, 120 ohms symmetrical




Data rate 2 Mbps unframed




4 … 31 x 64 kbps framed
LineRunner RFS/RPS
Remote modules for distant LineRunner SCADA NG
LineRunner SCADA NG RFS/RPS transforms input voltage to output voltage of another magnitude.
LineRunner SCADA NG RFS transforms low input voltage to remote supply voltage, typical for DSL data transmission. Alternatively, it can also generate wetting current that is transmitted via copper wires and protects them from corrosion.
LineRunner SCADA NG RPS transforms remote supply voltage, typically used for DSL data transmission, into input voltage typical for transmission technology units.
It can also change locally available high voltage to an input voltage typical for transmission technology units.
A characteristic application is supplying a remote LineRunner SCADA NG in a SCADA network via the copper pair, used for data transmission, with the operating voltage as well.
LineRunner SCADA NG RFS/RPS highlights
Transmission of the supply voltage via 1 or 2 copper wire pairs
Data transmission and remote supply via a single copper wire pair
2 connections for up to 8 W2 connections for up to 8 W
24 V output voltage
Compact housing 135 x 43 x 150 mm
All connections at the front
LEDs for an optical display of the operating status
Alternate switching between a supply voltage and wetting current
ASMOS – Network Management System for LineRunner
LineRunner ASMOS is the management system for all LineRunner systems.
By using LineRunner ASMOS, you can configure and monitor LineRunner DSL and LineRunner SCADA NG systems. An easy-to-operate user interface allows you to record and analyze the status of all your units quickly and affordably. With the configurable alarm system, you can set a priority for every type of malfunction report.
With the management SMU/SDU units you can connect one or several subracks via IP with your main station. A LineRunner ASMOS can manage up to 32 SMUs at a time.
LineRunner ASMOS can be installed on all commonly available Windows PCs with Windows XP or Windows 2003 Server.
LineRunner ASMOS highlights
3 ASMOS versions for each particular application

LineRunner ASMOS

LineRunner ASMOS CT

LineRunner ASMOS Pro

GUI platform standard Windows PC

Database platform (ASMOS Pro) standard Windows PC or LINUX

Connection via RS-232 or Ethernet

Up to 4000 network elements per ASMOS Pro

Integrated user management

Client/server architecture

Up to 10 remote clients per ASMOS Pro server
The ASMOS versions
ASMOS CT

The craft terminal for local configuration of system components via a laptop.

ASMOS

The management system for medium-sized LineRunner networks. It can monitor up to 500 transmission paths from a main station and is installed on one PC.

ASMOS Pro

Network management for use in large installations. It consists

An ASMOS server that accesses the system components,
An ASMOS client that allows the user to carry out configurations and monitoring,
A database that manages the individual attributes of the units.

The database and server can be set up on different computers to enhance performance.