Savremeni telekomunikacioni sistemi za specijalne namene
Poseban sektor telekomunikacija čine sistemi za upravljanje (daljinski nadzor, kontrola, upravljanje, …) značajnim infrastrukturnim objektima ili mrežama od posebnog značaja. Takvi sistemi su nacionalni elektroenergetsk sistemi ili njeni delovi (srednjenaponska mreža, visokonaponska mreža, distributivna mreža), razni policijski i specijalni sistemi veza i komunikacija, naftna i gasna postrojenja i infrastruktura, železnica, autoputevi i uopšte saobraćajnice, metro sistemi i tako dalje.
Najvažnija karkteristika ovih sistema je dostupnost odnosno pouzdan rad. Danas se podrazumeva da je svaki komunikacioni sistem IP baziran. Namenski sistemi moraju da obezbede i kompatibilnot sa nasledjenim sistemima i uredjajima u mreži što znači upotrebu analognih kanala za prenos glasa i raznih TDM servisa počev od SDH (STM-1, STM-4/16/64), PDH E1, PRI, BRI, ISDN, … RS-232, … V35, X21, pa sve to bitskih brzina koje idu i ispod 9600 b/sec. Sa druge strane zahteva se integracija i podržavanje MPLS protokola, SIP sistema i brzi Ethernet interfejsi 1Gbps, 10Gbps, 40Gbps,…
Pouzdan rad se zahteva u ekstremnim temperaturnim uslovima, nestabilnom napajnju, sredinama koje su izložene jakim elektromagnetnim zračenjima, prljavštini, prašini, agresivnim materijama i isparenjima. Hladjenje opreme nije moguće obezbediti klasičnim ventilatorskim sistemima već se primenjuju "fan-less" rešenja. Dakle oprema mora biti posebno dizajnirana za ovakve uslove rada. Standardna IKT (ICT) oprema ne ispunjava sve neophodne zahteve.
KEYMILE XMC20 IP Platforma koja podržava TDM i MPLS-TP
Full Hybrid Multi-service Access & Transport Platform for Communications Networks in Mission-Critical Systems
XMC20 is a purpose-built multi-service telecommunication family of network elements. It was designed to meet the stringent access & transport networks requirements for Mission-Critical Systems (MCS).
Being a full hybrid access and transport platform, the XMC20 supports the co-existence of native TDM and packet-based data transmission in one single network element. Thus, it is capable to fully evolve towards packet-based transport networks (MPLS-TP). With this, our customers have the flexibility to choose the best technology for their mission-critical applications. This lowers the operational costs and enhances the reliability and the availability of services.
The XMC20 provides the same scalability in TDM as well as in packet-based networks for highest availability under any circumstances. Comprehensive QoS functions (Quality of Service) guarantee reliable data transmission. Equipped with numerous redundancy and protection functions, the German-produced XMC20 is also backdoor and spy free. It is mechanically robust and can be operated in fanless mode due to its low power consumption and low number of components, providing a very good eco-footprint. In addition, it profits from the extended product-life-cycle of the KEYMILE products
All services in XMC20 are administered by a central network management system UNEM. The integrated management systems brings maximum synergy through managing all services on one platform. An easy-to-use local craft terminal (ECST) is as well available for our customers.
XMC20 platform highlights
| | |
| --- | --- |
| Full hybrid concept for coexistence and interworking of native TDM and packet services within the same node. Protection and redundancy functions for highly available data transmission. Wide range of applications and access interfaces supported. Support for various transmission interfaces and protocols, including 10 Gbps, SDH STM-16, MPLS-TP and many others | Fanless operation supported, robustness. Guaranteed long lifecycles due to state-of-the-art FPGA technologies and own manufacturing plant. Wide array of services which include 3rd party equipment integration and maintenance. All KEYMILE equipment and selected 3rd party equipment is managed under one Network Management System |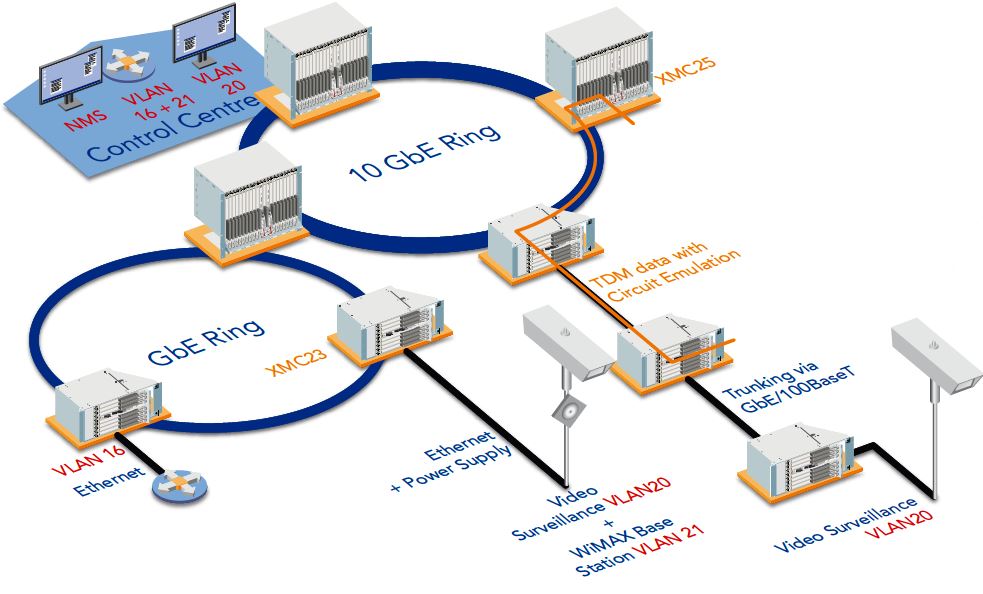 Functions
| TDM | Packet | Telephony |
| --- | --- | --- |
| G.703 2 Mbps | Ethernet Chassis Switch | SIP Voice Media Gateway |
| G.703 64 kbps | Label Edge Router (LER) | |
| Ethernet-over-SDH (EoS) | Label Switching Router (LSR) | |
| Ethernet-over-PDH | Circuit Emulation over Packet Networks | |
| Cross-connect (nx 64 kbps, 2 Mbps) | | |
Subscriber interfaces
Telephony

Data

DSL

POTS

100BaseFX

SHDSL (TDM)

FXO

GbE (optical)

SHDSL (EFM)1)

E&M

10/100/1000BaseT

Local Battery Phone

STM-1/STM-4/STM-16

ISDN




(in future release)

G.703 2 Mbps

G.703 64 kbps codirectional

G.703 64 kbps contradirectional

V.24/V.28

X.21/V.11

V.35

RS485 (2-wire, 4-wire)
Network interfaces
| Packet | SDH/PDH |
| --- | --- |
| 1 GbE and 10 GbE, optical | STM-1/STM-4/STM-16 |
| GbE, electrical | SHDSL (TDM) |
| SHDSL (EFM)1) | n x G.703 2 Mbps |
1) Available with next release
Technical Data and Features
| System Features | |
| --- | --- |
| System architecture | Fully modular open architecture, any service at any slot |
| | Hybrid backplane for Ethernet and native TDM services |
| | Fan-less operation supported |
| | Chassis switching functionality |
| | MPLS-TP according IETF RFC 5921 (07/2010) |
| Unit Protection | 1:1 equipment protection for core unit, SDH units, various PDH units and media gateway |
| Network Protection | RSTP/MSTP (Rapid Spanning Tree Protocol / Multiple Spanning Tree Protocol) |
| | Ethernet protection switching |
| | MSP (Multiplex Section Protection) |
| | SNCP (Subnetwork Connection Protection) |
| | 1+1 Path-Protection |
| Synchronisation via Ethernet | Synchronous Ethernet according ITU-T G.8262 (SyncE) |
| | Ethernet Synchronization Messaging Channel according ITU-T G.8264 (SyncE ESMC) |
| | Precision Time Protocol Version 2 according IEEE 1588-2008 (PTP) |
| Synchronisation via TDM | SETS according ITU-T G.813 |
| | PETS according ITU-T G.823 |
| Switching capacity | up to 62 Gbps (XMC25) |
| TDM cross-connect capacity | 128 x 2 Mbps |
| Ethernet backplane capacity | 400 Gbps |
| Operation &Maintenance | Ethernet OAM according ITU-T Y.1731 1) |
| VLAN Bridge Functionality | |
| --- | --- |
| VLAN Support | According IEEE 802.1Q (port- und tag-based) |
| No. of VLANs | 4089 |
| VLAN Ether Type | 0x8100 (Single Tagged Frames) |
| | 0x8100 (Q-in-Q Frames) |
| Traffic prioritisation | CoS Handling according IEEE 802.1 Q |
| Traffic classification | based on |
| | – Port (port default priority) |
| | – Ethernet priority bits |
| | – IP DSCP -field |
| Security | Ingress Storm Control |
| Protection | Ethernet Ring Protection Switching (ERPS) according ITU-T G.8032v2 (03/2010) |
| Authentication | According IEEE 802.1X |
| MPLS-TP Functionality | |
| --- | --- |
| MPLS-TP implementation | According IETF RFC 5921 (07/2010) |
| Attachment Circuits (AC) | On core unit and on service units |
| MPLS-TP ports | On core unit |
| Node function | Label Edge Router (LER) |
| | Label Switching Router (LSR) |
| MPLS-TP services | MPLS-TP Transport |
| | Virtual Private Wire Service (VPWS) |
| | Virtual Private LAN Service (VPLS) 1) |
| OAM-functions | Continuity Check (CC) |
| | Remote Defect Indication (RDI) |
| Protection | 1:1 Bidirectional Protection Switching (revertive, nonrevertive) |
| Gateways | |
| --- | --- |
| TDMoIP gateway | SAToP according IETF RFC 4553 |
| | CESoPSN according IETF RFC 5086 1) |
| Ethernet over SDH gateway | Framing-Procedure GFP according to ITU-T G.7041 |
| | Virtual Concatenation according to ITU-T G.783 |
| | Link Capacity Adjustment (LCAS) according to ITU-T G.7042 |
| Ethernet over PDH gateway | PPP-, Multi-Link-PPP- and HDLC-termination |
| VoIP media gateways | SIP |
| Interfaces – Uplink, Cascading, Management | |
| --- | --- |
| 1 or 10 Gigabit Ethernet | 2 x optical SFP+ based and 3 x electrical |
| SDH | 2 x STM-16/4, 2 x STM-4/1, 4 x 100/1000BaseT per SDH-unit |
| Management | 10/100BaseT for local configuration |
| | 10/100/1000BaseT for central management |
Interfaces – User Side

Ports per Card

Ethernet (optical/electrical, SFP-based)

12

Ethernet (electrical with PoE+)

12

Ethernet (electrical, high density)

24

SHDSL (EFM) 1)

24

SHDSL (TDM)

8

POTS

64

POTS (with enhanced voltage protection)

16

FXO (exchange line interface)

12

E&M

8

Local Battery Phone

8

Serial data interfaces




(V.24/V.28, X.21/V.11, V.35, RS485)

4

2 Mbps/E1 (G.703)

8

2 Mbps/E1 (G.703) over SDH

48

64 kbps (G.703) codirectional

8

64 kbps (G.703) contradirectional

2
| Capacity | XMC25 | XMC23 | XMC22 |
| --- | --- | --- | --- |
| Number of slots | 21 | 8 | 4 |
| Bandwidth per slot | 1 and 10 Gbps protected (1:1) backplane access | 1 and 10 Gbps protected (1:1) backplane access | 1 Gbps |
| Slot width | 20,32 mm | 20,32 mm | 20,32 mm |
Dimensions (W x H x D) and Weights

XMC25

XMC23

XMC22

19″ subrack with front cover and cable tray

482,6 x 309,5 x




304,3 mm,




7,7 kg

482,6 x 176,1 x




303,3 mm,




5,3 kg

482,6 x 94,9 x




303,3 mm,




3,6 kg

Installation

19″ and ETSI mounting practice

19″ and ETSI mounting practice

19″ and ETSI mounting practice
| EMC, Safety and Powering | |
| --- | --- |
| Product family standard | EN 300 386 V1.3.2 |
| | ETSI ES 201 468 V1.3.1 – testlevel 2 |
| | EN 55022 |
| | ITU-T K.21 |
| | ITU-T K.45 |
| | EN 50121-4 (EMC Railway applications) |
| Safety | IEC/EN 60950-1 |
| Input voltage nominal (min/max) | -48/-60 V DC (39,5 V DC … 72 V DC) |
| Operation Environment | |
| --- | --- |
| Temperature range system (extended) | -25 °C … +60 °C according ETSI EN 300 019-1-3, class 3.3, extended |
| Humidity | According ETSI EN 300 019-1-3, class 3.2, up to 95 %, non-condensing |