Video konferencijski sistem sada radi i lokalno kao prezentacioni sistem (wireless presentation & whiteboarding) a dodata je i mogućnost snimanja (capturing & recording)
COLLABORATE® Pro brings traditional SIP/H.323 video conferencing and Spontania cloud video collaboration into a single appliance to connect up to 25 locations into a single meeting with users joining from anywhere, using any device – pc, mobile, room endpoints or telephone.
Its versatile design makes it ideal for multiple applications including video conferencing, professional audio conferencing, wireless presentations and collaborations, training and
corporate announcements etc.
Single-site collaboration is made easy with COLLABORATE Pro's ability to stream content, video, whiteboard and annotations from your PC or mobile devices onto displays wirelessly.
Collaborate Pro 600 can function as high definition capture studio to capture and record voice, video and data for future on-demand access.
Brings traditional SIP/H.323 video conferencing and cloud video collaborationinto a single appliance for multi-site collaboration with up to 25 sites

Perfect for both single-site and multi-site interactive collaboration

Multi-purpose solution makes it perfect for multiple applications and environments

Multi-source collaboration with simultaneous capture of up to 4 video input sources

Single point of support and maintenance for your collaboration and conferencing needs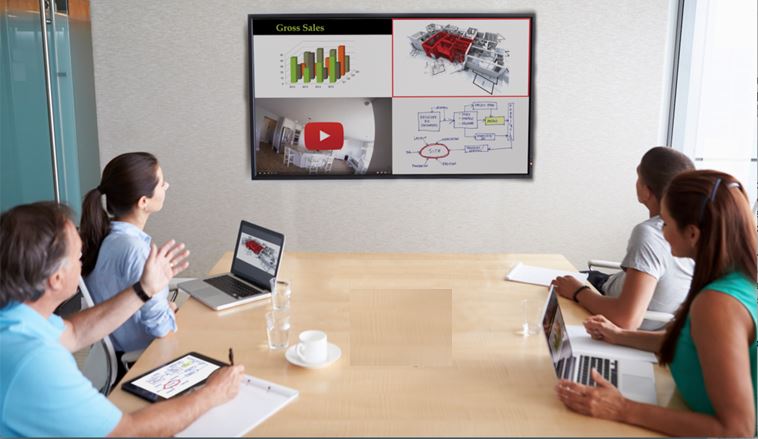 Novi COLLABORATE® Pro – Multifunkcionalni komunikacioni sistem
Novi ClearOne COLLABORATE® Versa i Pro komunikacioni sistemi sadrže više funkcionalnosti u jednom uredjaju. Može raditi kao klasični H.323 ili SIP bazirani videokonferencijski terminal ili multipoint sistem. Ali podržava i web, Cloud aplikacije kao što su Skype, Spontania, Webex, …. Takodje sistem može raditi kao prezentacioni sistem tako što se do 4 učesnika mogu istovremeno povezati svojim mobilnim ili PC uredjajima i projektovati svoje prezentacije, podatke, white-boarding i drugo. Kompletna sesija se može snimiti i kasnije reprodukovati – audio, video i podaci. Pojedini modeli podržavaju i čisti audio konferensing uključujući i profesionalni audio
Izaberite sistem koji odgovara vašim potrebama:
 Collaborate sistem:

Versa 100
Pro 300
Pro 600
Pro 900

 

 
 

 

 

  Codec Appliance

 

√
√
√

  PTZ Camera

Unite 100 PTZ
Unite 100 PTZ
Unite 100 PTZ
Unite 100 PTZ

  Audio

Speakerphone
Speakerphone
(2) Mic Arrays
Beamforming Mic
& Converge 840T

 

 
 

 

 

  Video Conferencing – H.323/SIP

 

√
√
√

  4-Port MCU – H.323/SIP Built In

 
 
√
√

  25 Seat Spontania Cloud

√
√
√
√

  Wireless Presentation & Whiteboarding

 
√
√
√

  Capture & Recording

 

 

√
√

  Streaming & Distribution

 
 
√
√

  3rd party Apps (Google, Skype, Lync, etc.)

√

 

 

 

  Two-Year Warranty with support & maintenance

√
√
√
√
Poznat po najboljem audio kvalitetu ClearOne sada dodaje moćnu PTZ kameru sa 12x optičkim zumom
ClearOne has released the UNITE PTZ Camera, a high-resolution 1080p60 video camera that can connect directly to any PC or laptop through USB 3.0 — enabling videoconferencing, unified communications or multimedia streaming without the need for adapters or converters. The camera can also connect to traditional video devices through a built-in DVI interface.
Combined with wide angle lens, the camera's 1080p60 resolution provides a sharp picture even when displayed on a large screen. Other features include:
12x optical zoom plus full pan, tilt and zoom;

Fast and stable auto focus;

Choice of standard, soft or vivid picture modes; and

Multiple white balance modes.