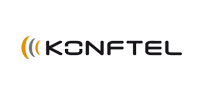 Konftel 300Wx – absolute freedom with no wires attached
The Konftel 300Wx gives you the flexibility to arrange meetings without the need for electrical sockets or phone jacks. Its rechargeable battery provides talk time of up to 60 hours – you can talk a whole working week without having to recharge! The Konftel 300Wx is GAP/CAT-iq compatible and can be connected to existing DECT systems. It also enables your organisation to have meetings with wireless HD audio, thanks to CAT-iq and the option of connecting to IP DECT-base stations.
The Konftel 300Wx connects easily to your PC via a USB port for VoIP calls and web meetings or to your mobile phone. The integrated bridge system provides the capability to connect DECT, a mobile phone and USB to multi-party calls. The Konftel 300Wx incorporates numerous smart features that simplify your teleconferences. Record your meetings with an SD memory card and listen to them later on. The conference guide helps you make multi-party calls and save call groups, which is a useful feature if groups have regular meetings.
The Konftel 300Wx incorporates Konftel's patented OmniSound® audio technology, which provides crystal-clear sound and can be upgraded with expansion microphones to cover larger events. The Konftel 300Wx has an elegant, Scandinavian design that enhances any conference room.
Wireless IP meetings with powerful audio
It is now possible to take the HD calls on your IP telephony into wireless conference calls. Konftel's DECT base station, IP DECT 10, is connected via SIP and can have up to 5 HD-capable Konftel 300Wxs registered, five simultaneous calls. It is possible to set up the Konftel 300Wx with IP DECT base stations provided by third-party manufacturers supported by Konftel. However, Konftel IP DECT 10 offers some unique advantages and makes it simple to get started.
LANGUAGE VERSIONS
Menus in Danish, Dutch, English, Finnish, French, German, Italian, Norwegian, Polish, Russian, Spanish, Swedish and Turkish.
SOUND SPECIFICATIONS
OmniSound®.
Microphone Omnidirectional, 360˚.
Frequency bands – DECT 200-3300 Hz, CAT-iq 200-7000 Hz, USB 200-7000 Hz.
Reception area: up to 12 people (30 m2/320 sq ft).
Volume: Max 90 dB SPL 0.5 m.
Equalizer: soft, neutral and bright.
CONNECTIONS
Konftel 300Wx: DECT 6.0: GAP/CAT-iq compatible, range up to 200 m in open space,
50 m in buildings. Can be registered to 4 DECT bases.
Mobile phone: » Cable selector
USB 2.0.
Konftel DECT base: Analog PBX or PSTN, RJ-11, GAP/CAT-iq compatible.
POWER
Konftel 300Wx: AC adapter 100-240 V AC/14 V DC, length 6 m.
Konftel DECT base: AC adapter 100-240 V AC/6 V DC, length 2 m.
BATTERY
5200 mAh, up to 60 h talk time/270 h standby.
DIRECTORY
200 contacts, import via memory card.
CALL RECORDING
Support recording on SD & SDHC (≤ 32 GB) memory card.
ANTI-THEFT PROTECTION
Kensington® security slot.
DIMENSIONS
Konftel 300Wx
Size: Diameter 240 mm, height 77 mm. Weight: 1,18kg incl. battery.
Konftel DECT base
Size: 175×160 mm, height 25 mm. Weight: 240 g.
Colour: Liquorice black.
DISPLAY AND KEYPAD
Display screen: LCD, 128×64 px.
Keypad: Alphanumerical 0-9, *, off hook/F, on hook, mute, hold, volume up, volume down, 5 buttons for menu navigation, line mode and conference guide.